HONEY BBQ GRILLED CHICKEN
Views: 70 Author: Site Editor Publish Time: 2018-10-19 Origin: Site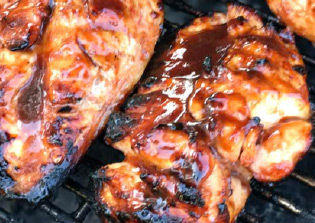 PREP TIME: 5M
COOK TIME: 40M
TOTAL TIME: 45M
INGREDIENTS
· 3 1/2 pounds boneless, skinless chicken breasts
· 1 cup bbq sauce
· 2/3 cup honey
· 1 tablespoon white wine vinegar
· 1 teaspoon garlic powder
· 1/2 teaspoon cayenne pepper
· 1 teaspoon salt
· 1 teaspoon pepper
DIRECTIONS
1. Whisk together marinade ingredients.
2. Place chicken in ziplock bag, pour in marinade, reserving some for basting. Let marinate in refrigerator for up to 2 hours.
3. While chicken is marinating, preheat grill.
4. Grill on indirect heat around 400-450° F for about 40 minutes, flip and baste half way through. Grill until internal temperature reaches 165-175° F. Remove chicken from grill and brush with any remaining marinade. Let rest 10 minutes.