CILANTRO-LIME STEAK FAJITAS
Views: 29 Author: Site Editor Publish Time: 2018-10-19 Origin: Site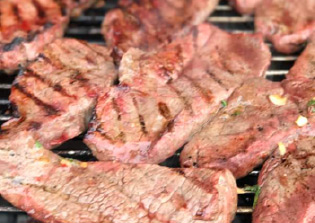 PREP TIME: 10M
COOK TIME: 30M
TOTAL TIME: 40M
SERVES: 4
INGREDIENTS
· 1 pound beef steak strips
· 1/3 cup olive oil
· 1/2 cup freshly squeezed lime juice
· 1/2 cup fresh cilantro, chopped
· 2 cloves garlic, minced
· 1 teaspoon honey
· 1/2 teaspoon chilli powder
· 1 teaspoon cayenne pepper
· 1 teaspoon red chili flakes
· 1 teaspoon salt
· 3 bell peppers, sliced
· 1 onion, sliced
· 8 flour tortillas
· Extra cilantro leaves to garnish
· Guacamole (optional) to serve
DIRECTIONS
1. Whisk together olive oil, lime juice, cilantro, garlic, honey and spices. Reserve about one-fourth of marinade and refrigerate.
2. Place meat in a shallow dish and pour remaining three-fourths of marinade on top of it. Let meat marinate in this overnight in the refrigerator, or at least an hour.
3. Preheat grill to 450°F-500°F.
4. Slice bell peppers and onion and place in grilling basket or tin foil packet with a little olive oil and garlic salt.
5. Grill steak about five minutes per side (or until internal temperature reaches 145°F). Brush reserved marinade on after flipping. Once done, remove from grill, cover with foil, and let rest.
6. Grill the bell peppers and onion foil-packet at 450°F-500°F , about 10 minutes a side. If you want, grill tortilla shells about 10 seconds per side.
7. Assemble your fajitas. Garnish with extra cilantro and guacamole. Add your favorite hot sauce for added heat.